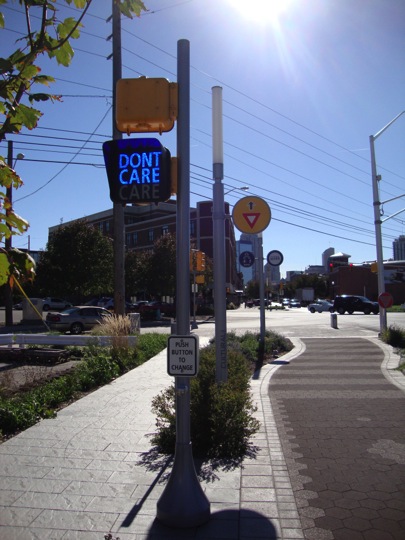 The Indianapolis Cultural Trail, 2006-2013
The Indianapolis Cultural Trail: A Legacy of Gene & Marilyn Glick (ICT) is an eight-mile, urban pedestrian and bicycle trail in the heart of downtown Indianapolis. It was designed and constructed through a public-private partnership between the City of Indianapolis' Department of Public Works and the Central Indiana Community Foundation. Total construction budget was approximately $63 million.
During design and construction (2006-2013), Art Strategies worked to curate and produce seven permanent public art projects with a $2 million budget. Art Strategies also co-produced "Get Down On It," the grand opening of the Trail which included a day-long celebration that brought over 81 arts, cultural, health & wellness, and other activities out onto the Trail for the public to enjoy.
One of the unique aspects of the Cultural Trail is its emphasis on art, sustainable design, and the role of creative expression in the future of the city. Our multidisciplinary design team subscribed to the belief that livable cities need to provide all people access to art, good design, and nature every day. Physically, the Cultural Trail is a curbed, buffered, beautifully paved, richly landscaped and artfully lighted linear trail that features public art and green design.
Currently, Art Strategies is contracted to Indianapolis Cultural Trail, Inc., the not-for-profit that manages, maintains, and markets the Trail, as their art advisor.
Prairie Modules 1 & 2 by M12
Prairie Modules 1 & 2, 2010 by M12 (An artist collective based in Indianapolis and Colorado), steel, paint, prairie grass, LED lights & solar panels, modules are approx. 14 ½ ft. square, ½ city block, Location: North Street between New Jersey and Alabama streets, adjacent to CICF's English Foundation Building.
This project invites visitors to immerse themselves in an alternative urban landscape that marries images of rural Indiana (the prairie and covered bridges) with the emerging urban Indiana (solar panels, "green roofs"). Through a ground-breaking partnership with Indianapolis Power and Light, Prairie Modules 1 & 2 is the first bi-directional grid-tied, energy-neutral public art installation in the city of Indianapolis. M12 is a non-profit collective of artists that develop and implement site-based projects, public art commissions, exhibitions, and research projects with socially progressive themes.
Ann Dancing, 2007, by Julian Opie (London)
LED panels, paint, aluminium, steel, and glass, 73 ½ x 34 x 34 inches without the base, installed in 2008.
Location: Intersection of Vermont and Alabama streets with Mass. Ave. Budget: Approx. $200,000
Opie is an internationally recognized artist who has become well known for his animated LED installations. Indianapolis commissioned his first 4-sided LED display. This piece is situated at a major gateway to the Mass Ave Cultural District and the Cultural Trail.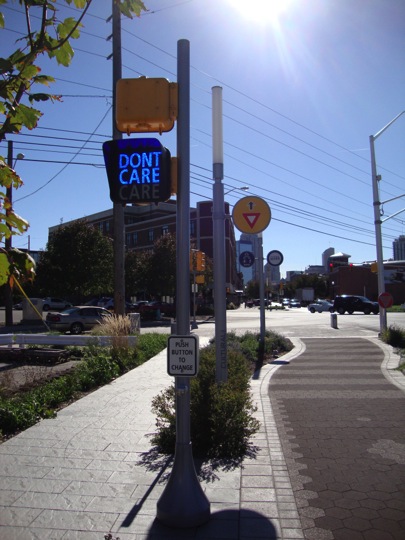 Care/Don't Care, 2010 By Jamie Pawlus (Indianapolis)
Custom pedestrian crossing signal, approx. 12 ft. tall.
Location: East end of Mass Ave, just east of College Avenue.
Placed out of functional context in mid-block, pedestrians are encouraged to push the signal button to change the artwork's message to either "Care" or "Don't Care," messages which also change at random intervals without requiring any intervention. The artwork is intended to have an immediate effect on those who encounter it, as it asks them to participate in acknowledging their current state of mind at any given moment. The artist, Jamie Pawlus, is an Indianapolis resident whose work consists of repurposing objects of daily use and turning them into statements of social relevance.
Moving Forward, 2012 by Donna Sink
Stainless steel, 3-Form Eco-Resin, & cement with TX Active additive, Approx. 8 ft. 6 in. x 8 ft. 9½ in. x 4 ft. 6 in. ea. Seven locations in the City.
The shelters are comprised of ecoresin panels, which are made using 40% post-industrial re-grind content, mounted in a stainless steel frame. The shelters are installed on TX Active photocatalytic cement pads. These pads are self-cleaning and help reduce many pollutants deemed harmful to human health and the environment. Each shelter was conceived as a method for allowing poets to participate in the public art program. A call for poetry was released. Each shelter has part of the chosen poem embedded in the resin panels, while the entire poem is legible on one of the shelter side panels. Donna Sink is an Indianapolis-based architect who is interested in innovative and sustainable design solutions.
Swarm Street, 2013, by Acconci Studio (New York, NY)
Interactive light environment & donor wall – LED & florescent lights, aluminum, steel, concrete pavers, 1-city block within Virginia Avenue Garage. Budget: Approx. $1.3 million
In the late 1980s with the founding of Acconci Studio, internationally renowned artist Vito Acconci turned his full attention to large-scale architectural projects that explore the boundaries of the body. The in-floor and overhead lighting is activated by the users of the Trail. Each individual's swarm of light intersects with others as people move past each other on the Trail demonstrating our individuality as well as our collectiveness.
Chatham Passage by Sean Derry (Originally Homer, Alaska, lives Pittsburg, PA)
Artist conceived vault with artist designed grate, colored LED light, scent machine, architectural up-lighting, grate approx. 42 x 80 in. Location: Alley off of the 700 block of Mass Ave between Chatham Tap and Metro Night Club.
Chatham Passage is a multi-sensory artwork that refers to the history of the Chatham Arch neighborhood and the past uses of the alley behind Massachusetts Avenue. Operating within the vocabulary of the urban cityscape, the artwork provides Trail users with a "window" to explore a part of Indianapolis in greater depth. The artist, Sean Derry, is a former Indiana resident, now based in Pittsburgh, whose conceptually-based artworks often highlight forgotten urban history.
Looking Through Windows, 2012, by Michael Kuschnir (MFA student at the Herron School of Art & Design, IUPUI, at the time of commissioning), painted steel and acrylic, 12 ½ x 9 x 6 ½ feet
A competition ran as a professional practice project for MFA students at the Herron School of Art + Design, Indiana University Purdue University Indianapolis.
"My artwork begins with an architectural element that I manipulate through repetition... I took an assortment of existing windows on Indiana Ave and combined them with generic window forms to create a gestural sculpture. The inspiration for this piece came from listening to people of the community talk about this site. Some people reminisced about the past while others talked about the future of this location. I collected these viewpoints as if they are windows into each of us. Now I give the opportunity for everyone to see this neighborhood in these warm embracing colors; an opportunity to look at this community through each other's lenses."
--Michael Kuschnir
The Tent, 2008, by Donald Lipski for the 500 Festival
Stainless steel and paint
Approx. 43 feet tall by 14 feet wide
The hundreds of painted stainless steel panels blow in the wind creating a flickering affect. This visual is reminiscent of the areal view of the start of the 500 Festival marathon when thousands of people take off creating an abstract palette of color and light.
Art Strategies worked with the 500 Festival on the artist selection, proposal, and commission process to create a legacy of their 50th anniversary as an organization. They wanted to project sited adjacent to the Indianapolis Cultural Trail.
Images from GET DOWN ON IT, the public celebration of the opening of the Cultural Trail, which was co-produced by Art Strategies. The day started with a processional on the Trail that was led by four high school marching bands and culminated in them playing "Get Down On It" in front of the City-County Building.
An Indy Go bus painted by Fab Crew for the Get Down On It celebration.