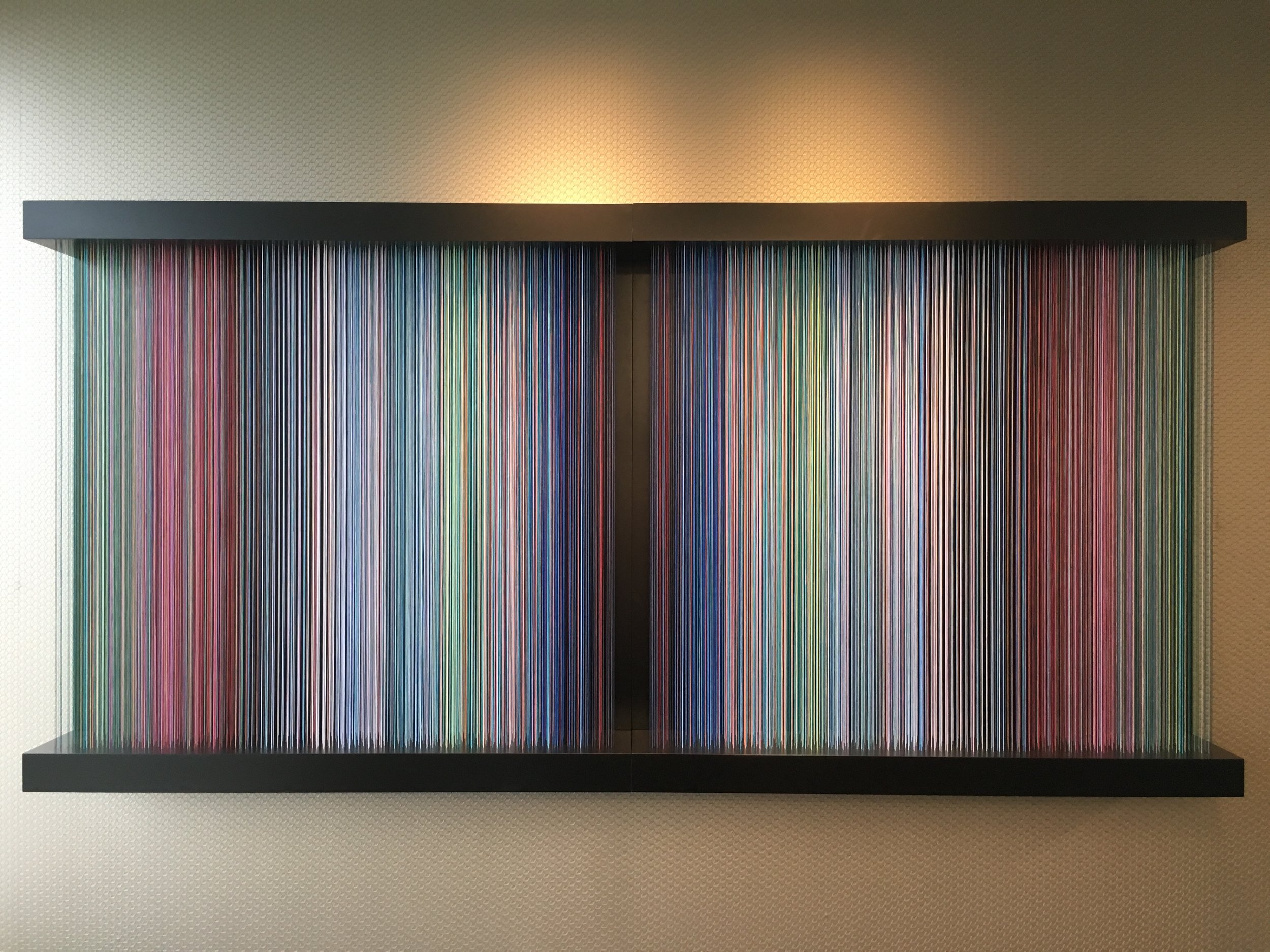 Gene B. Glick Co.: Home Office (February to August 2017)
Today Gene B. Glick Company is one of the largest privately held real estate management and development firms in the US, with more than 20,000 units in 12 states. The company's reputation was built on their founder's commitment to integrity, quality construction, excellent service, and superbly maintained communities. In the last year, a new home office was built in Indianapolis, Indiana and Art Strategies was hired to work with their President & CEO on an art program. Focusing on artworks that reflect on the art of building and making, the program helped create an inspiring and comfortable workplace where the company's ethos is reinforced.
Pictured above in the office lobby:
Roy Lichtenstein (American, 1923-1997)
Painting in Gold Frame, 1984
Woodcut, lithograph, screenprint, and collage on Arches 88 paper
Edition of 60
46 1/4 x 35 15/16 inches
All photography by Hadley Fruits (c) 2017
Paula Scher (American, b. 1948)
U.S. Counties and Zip Codes, 2015
Acrylic on hand-pulled screenprint (unique)
36 ¾ x 54 1/8 inches
Scher's father, Marvin B. Scher, invented the 'stereo templates' for the government—a device that corrects the lens distortion in aerial photography. He taught his daughter, Paula, that maps are not the literal truth. They are distorted and their information changes based on time and the mapmaker's point of view, as is all data. Paula Scher's maps are a kind of data visualization. She has referred to them as her "abstract expressionism of information." Here she visualizes U.S. Counties and zip codes using the form of the U.S. map.
Location: Harrison Board Room
Roland Fischer (German, b. 1958)
Façades on Paper IV, 2007
One of a portfolio of eight screenprints
Edition of 100
35 x 25 inches each
Location: Executive assistant's desk looking into the President & CEO's office.
Nicola López (American, b. 1975)
Infrastructure #3, 2012
Five-color lithograph
Edition of 12
44 x 29 ¾ inches
Nicola López constructs and then deconstructs architectural forms into recognizable yet fragmented parts that visualize its construction process and various states of its life cycle. Through her work in installation, drawing, and printmaking, López describes and reconfigures our contemporary—primarily urban—landscape. This is why one of her artworks was selected for the office in Indianapolis. Her focus on describing 'place' stems from an interest in urban planning, architecture, and anthropology and it has been fueled by time spent working in and traveling through different international landscapes.
Location: Open office space
Paula Scher (American, b. 1948)
MTA (NYC Transit), 2008
Hand-pulled silkscreen on Coventry rag
60 x 34 1/4 inches
Edition 10 of 10
Also seen is an Alexander Calder print from 1970 that was already owned by the President and CEO.
Location: Office of the President and CEO
Jim Dine (American, b. 1935)
Ten Winter Tools (Handcolored), 1973
Set of 10 lithographs with watercolor on Auvergne Narcisse paper
26 x 20 inches each
Tools such as paintbrushes, wrenches, and wire-cutters make frequent appearances in Dine's art. As Dr. Mark Thistlethwaite explains, "tools appeal to Dine for many reasons, but three stand out: their connection to his adolescence, their association with work and the worker, and their formal beauty." Dine saw tools as offering a "link with our past, the human past, the hand." To him, tools represent a connection to the mythology of art and to the process of human creativity. This suite of handcolored prints was selected due to their connection to construction.
Location: Open office space
Sol LeWitt (American, 1928-2007)
Bands of Lines in Four Directions (Vertical), 1994
Water-based woodblock print, Edition of 45
Image: 28 7/8 x 10 inches; Paper: 33 x 13 inches
LeWitt had no interest in creating a narrative or in using representational imagery. He believed in the primacy of an idea or concept. He used basic colors and shapes to create drawings, prints, paintings, and structures, exploring repetitions and variations of these simple elements to achieve complex relationships and patterns. LeWitt is best known for his large-scale wall drawings, making over 1,200 during his lifetime.
Location: Open office space
Shawn Causey (American, b. 1969)
Mark Daniell (American, b. 1968)
Split Horizon, 2017
3900 nylon strings and wood
Four units at 46 x 47 x 10 inches each (2 units pictures here.)
Location: Large huddle area for informal meetings
This was a site-specific commission for the office by two locally-based artists.
Split Horizon is a study of changing light and color inspired by the Indiana landscape. Refracted in multiple layers of vertical string, color is transposed in variations on dawn and dusk. Activated by the motion of the viewer, the artwork changes with each shift in perspective, inviting a slow meditation on the process of looking and seeing. The installation was designed specifically for this large huddle area. Inspired by the large bank of windows, the artists wanted to bring even more of the landscape into the space to surround the staff with inspiration and beauty.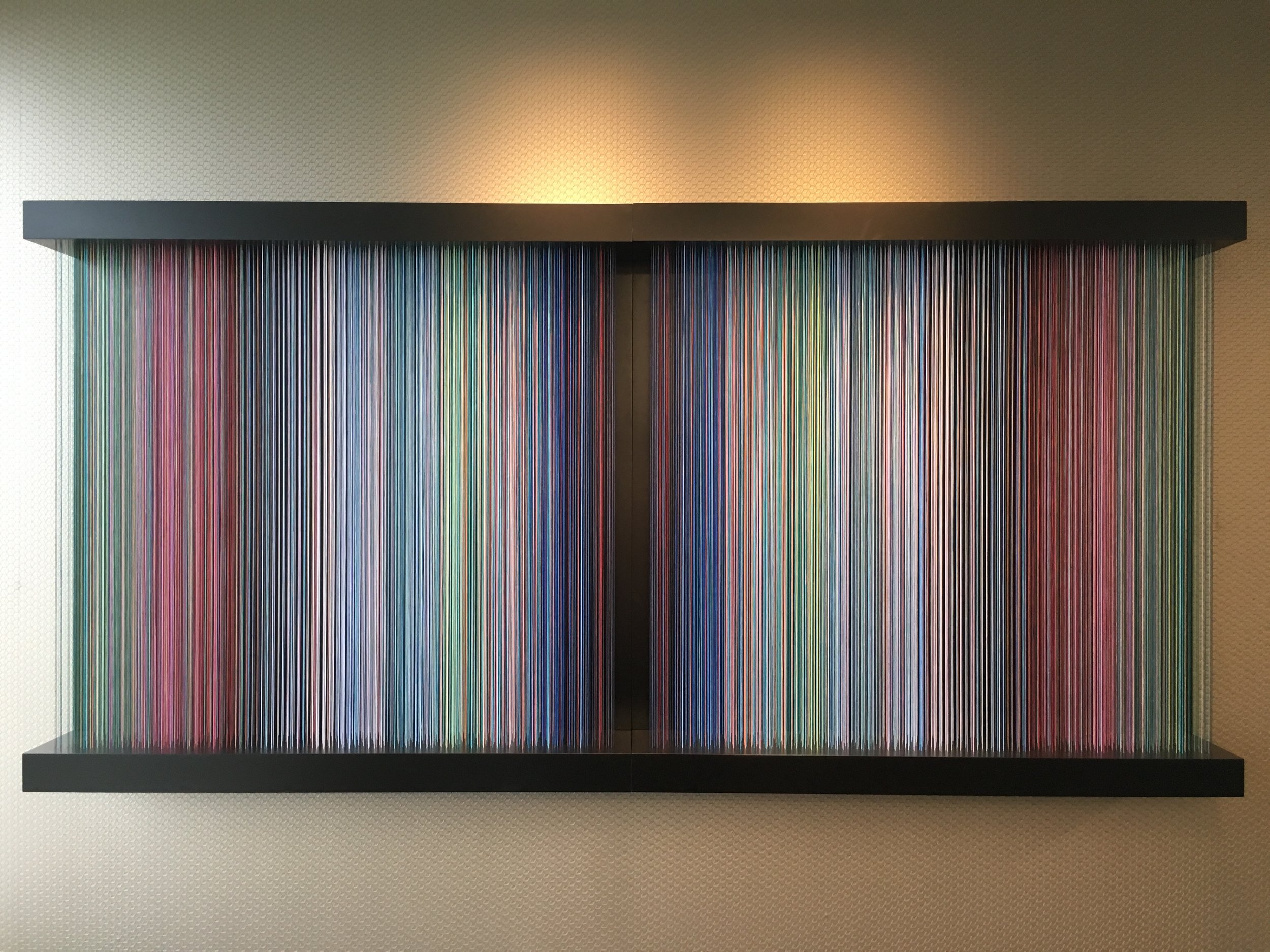 "A meditation on color and the pleasure of seeing." This is how ArtPrize in Grand Rapids, MI, described Sweet Spot—a floor to ceiling installation of colored thread produced by this duo. It was a top 20 Public Vote Finalist there in 2016. Causey received her degrees in art and music from the Herron School of Art and Design and Butler University respectively. Daniel received his degree in philosophy and religious studies from Butler University. They both live and work in Indianapolis.
Roland Fischer (German, b. 1958)
Façades on Paper IV, 2007
Portfolio of eight screenprints (four seen here)
Edition of 100
35 x 25 inches each
Whether photographing buildings for his Façades or human faces for Pool Portraits, Fischer isolates details, stripping away all other visual information to focus the viewer's attention on the individuality of his subject. His Façades series presents images of modern building faces from around the world cropped closely and our perspective skewed so that they read as abstract geometric patterning, their architectural origins obscured. By erasing all context in his photographs, Fischer presents something pure and concentrated.
Location: Open office area
Donald Sultan (American, b. 1951)
Poppies, Nov 6, (white), 2015
Silkscreen and flocking on paper
Edition of 40
46 x 46 inches
Donald Sultan is an important painter, sculptor, and printmaker, who rose to prominence in the late 1970s as part of the "New Image" movement. He's known for his monumental paintings that characteristically employ industrial materials, including tar, spackle, and enamel, to render basic geometric and organic elements with a formal minimalism. Throughout his career, he has revisited and reinvented the still-life with images of lemons, poppies, playing cards, fruits and flowers, and other objects. Interested in contrast, he explores such dichotomies as beauty and roughness, nature and artificiality, and realism and abstraction.
Location: Small huddle area for informal meetings
Robert Indiana (American, b. 1928)
Heliotherapy Love, 1995
Color silkscreen on 4-ply rag board, Edition of 300
39 ¾ x 39 ¾ inches
Robert Indiana's Love print was first created in 1965 for the Museum of Modern Art's Christmas cards. It was the basis for the widely distributed Love stamp created by the U.S. postal service in 1973. In 1977, he created a Hebrew version of Love by using the word Ahava. The term heliotherapy refers to light therapy used to treat various medical disorders. The title is surely inspired by the vibrant yellow used as the board around Indiana's iconic red, green, and blue love image.
Location: Open office space just down from the small huddle area where the Sultan poppy on white is displayed.
Donald Sultan (American, b. 1951)
Poppies, Nov 6, (Yellow), 2015
Silkscreen and flocking on paper
Edition of 40
46 x 46 inches
Location: Just inside the office from the reception area and outside the Board Room it welcomes you to the office.
Todd Reifers (American, b. 1948)
Meridian Street, Looking South, 2017
Oil on linen
36 x 24 inches
Indiana has a rich artistic tradition. Many of the conference rooms in the home office are named after famous Hoosier artists such as the great painter T.C. Steele. Here in the Carmichael room, we feature an original painting by a living artist working in that historic American Impressionist style. Todd Reifers is considered one of the best Indiana painters working in this style today.